Services
Virtual CIO Integration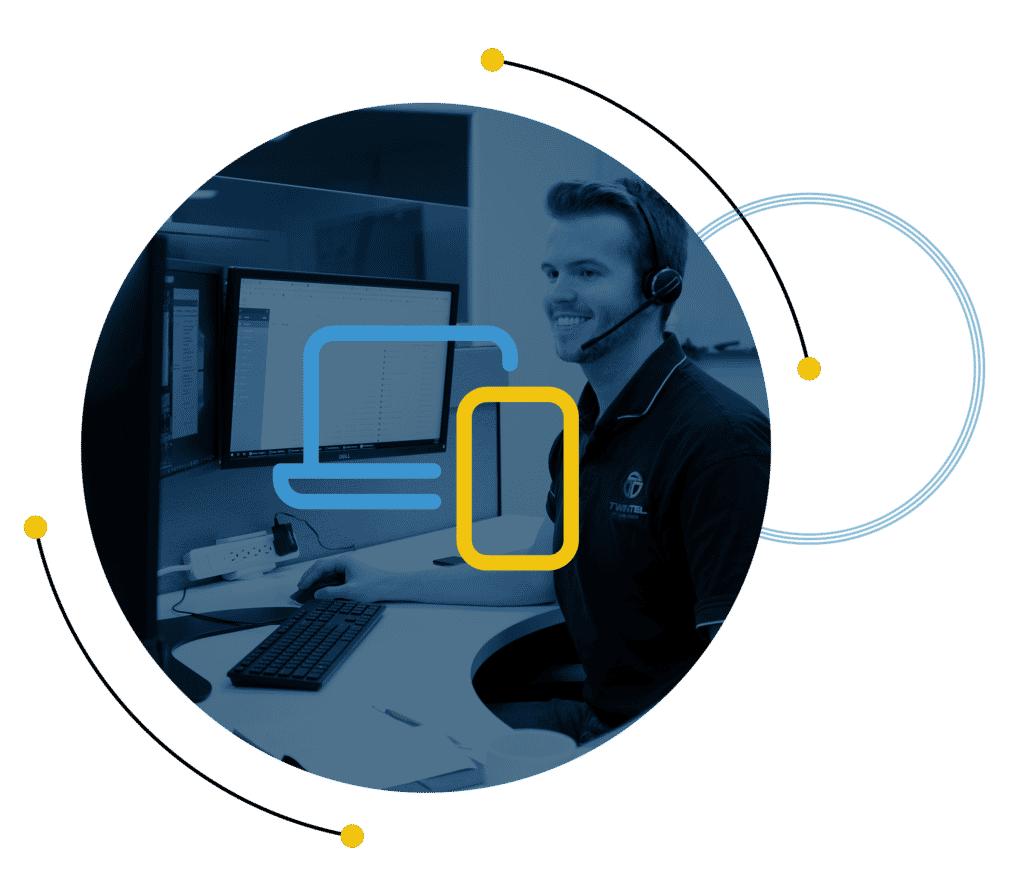 Think of a virtual CIO as your on-call expert, ready to help you make the best IT decisions for your business. Whether you need help creating an IT strategy, managing your budget, or implementing new technology, a virtual CIO can provide valuable guidance and support. This service is especially beneficial for small to medium-sized businesses that may not have the resources to hire a full-time CIO.
With Twintel you can access the power of strategic tech leadership without the full-time overhead.
Schedule A Call
Here's what you can expect when you team up with Twintel and our vCIO services:
Experienced CIOs
Our vCIOs come with a wealth of experience. They've been around the IT block and know common IT challenges like the back of their hand.
Tailored IT Strategy
No cookie-cutter solutions here. We'll craft an IT strategy that's as unique as your business, aligning technology with your goals.
Cost-Efficiency
Who said IT has to break the bank? We'll help you find cost-effective solutions that keep your budget happy.
Technology Roadmap
Want to know where your IT is headed? Our vCIOs will create a roadmap that shows the way, keeping you ahead of the curve.
Vendor Management
We'll handle the tech talk with your vendors so that you can focus on your business, not the negotiations and contracts.
Security and Compliance
Your data's safe with us. We take security and compliance seriously, so you can rest easy knowing your organization is protected and meeting industry regulations.
Disaster Recovery
Prepared for the worst and hoping for the best. Our disaster recovery plans ensure your business stays resilient and doesn't suffer from unnecessary downtime.
Employee Collaboration
Our vCIO acts as an extension of your team, boosting teamwork and productivity with IT solutions that enhance employee collaboration.
Quality Control
We're all about quality. We oversee your IT to maintain quality control and ensure efforts align with your business goals.
Why Choose Twintel's

Virtual CIO Service

?
When you choose Twintel for your Virtual CIO Integration, you're getting a partner who provides:
Expertise

: Our vCIOs have years of experience and knowledge in the IT industry, making them a valuable resource for your business.

Custom Solutions

: One size doesn't fit all. We tailor our solutions to your unique needs.

Cost Savings

: We're all about making your budget work smarter, not harder. Access CIO expertise without the cost of a full-time in-house executive.

Strategic Focus

: We'll keep your eyes on the prize: achieving your business goals.

Collaborative Approach

: We're not just advisors; we're a part of your team and work closely with you to enhance collaboration.

Proactive Monitoring

: Issues don't stand a chance. We catch them before they catch you.

Security First

: Your data is our top priority. We put security and compliance front and center.

24/7 Support:

We're here for you around the clock. Tech issues don't wait, and neither do we.
Get Started With
Twintel
Today!
Take the next step toward a more efficient, cost-effective, and tech-savvy future. Contact Twintel today to get started with our Virtual CIO Integration.
Schedule a Consultation
"*" indicates required fields
CONTACT US
Are you struggling to find help with your IT? Whether it's answering your pressing IT questions, providing troubleshooting support, or offering high-level IT consulting, the experts at Twintel are ready to assist you. Don't let IT obstacles hold you back; call us today or fill in the form for comprehensive IT solutions tailored to your needs.
Meet with Us