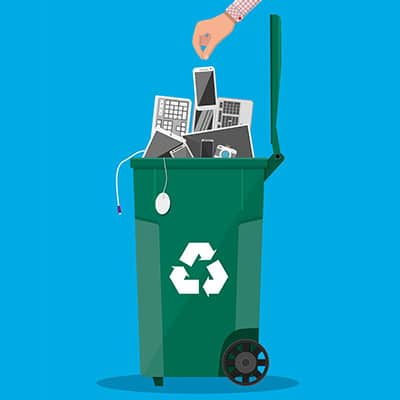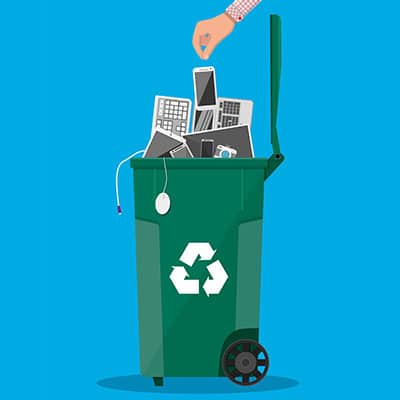 In the post Prime Day space, you might realize that you have purchased quite a few consumer electronics from the web retailer, and if you did, we hope you found some great deals that you can write home about. But before you throw out your old devices in favor of the new, we urge you to think about the approach you are going to take, as improper recycling and disposal of devices could have negative effects on both the environment and your personal data.
E-Waste is a Problem
To illustrate how e-waste can quickly become an issue, consider just how quickly society as a whole replaces devices they own. Most adult humans in the world have a smartphone these days, and that's not to mention that they also have laptops, desktops, appliances, and other devices they use throughout the day. When new models of devices with better, more dynamic features are released, the natural reaction is to upgrade and replace the old with the new.
Despite the ongoing pandemic having decreased spending on electronics, as well as the ongoing consumer electronics shortage caused by supply chain issues, there will always be more opportunities for people to purchase new devices while failing to throw out their old devices in the process. These devices, when they aren't properly recycled, can find their way to landfills in third-world countries where they accumulate into massive piles of toxic e-waste.
Consider what these devices are made of; with valuable metals in their components like gold, copper, iron, silver, and platinum, as well as harmful chemicals found in their batteries like mercury, lead, and cadmium. These devices are a nightmare to the environment—especially in as large a quantity as those found in landfills.
Make Sure to Wipe
E-waste is bad for the environment, but many people who throw away their devices simply aren't aware of the vast amounts of personal data that can be found on them. People will throw away devices without first considering what they have used it for in the past, which passwords or other personal data may have been saved to them—information that the right hacker could sell to the right criminal for just the right price. To keep this from happening, we recommend that you wipe all data from your devices prior to their recycling. In many cases, the only way to be sure of a wipe is to completely destroy the hard drive, rendering it inoperable and unrecoverable.
Need a Hand?
Properly disposing of your old electronics can be challenging on your own, so we recommend working with professionals like Twintel who can help you ensure that your company's devices are properly wiped before they are discarded. We can also help you locate a place to recycle your devices so that they don't contribute to the proliferation of e-waste in landfills all over the world.
For more information on what you can do to be part of the solution to e-waste, contact Twintel at 888-428-0599 or schedule a meeting today.

Twintel has grown into an expansive, full team of IT services professionals, acting as the outsourced IT department of non-profits, small to mid-size businesses, and enterprise-level corporations in Orange County, across California, and nationally.
Today, it's the strength and deep expertise of the Twintel team that drives positive outcomes for clients. Each of the support staff, technicians, and engineers works diligently each day to make sure that the companies served have the seamless, secure, and stable IT environments needed to allow them to pursue their organizational objectives.