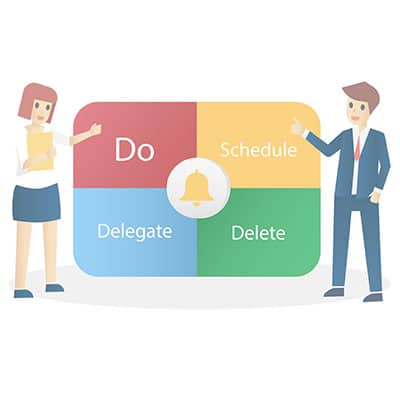 If you have a to-do list a mile long, then you'll need to develop a system to place priority on what truly matters and what could be put off until a bit later. Thankfully, you don't have to develop a system from scratch, as one of the more interesting methods for tackling your to-do list has already been developed and inspired by a 1950s speech: the Eisenhower Matrix.
Let's examine the Eisenhower Matrix and how you might use it in your daily responsibilities.
Explaining the Eisenhower Matrix
The namesake of this strategy, former United States President and five-star general during WWII Dwight D. Eisenhower, quoted in 1954 an unnamed university president during a speech:
"I have two kinds of problems, the urgent and the important. The urgent are not important, and the important are never urgent."
This quote was later adapted and elaborated upon by author Steven Covey, who used the words to build a task management system called the Eisenhower Matrix, which is detailed in his book, The 7 Habits of Highly Effective People.
This system breaks tasks down into levels of importance and urgency, with the important tasks contributing to long-term goals and urgent tasks drawing your attention at a specified moment. If these aspects are combined in different ways, you can build out levels of priority for the tasks you encounter throughout your workday. Here's how you might use the matrix to determine your tasks:
Tasks that are both urgent and important should be done immediately.

For instance, a client proposal or responses to incoming client messages.

Tasks that are important, but not urgent, should be scheduled to be completed.

For instance, attending a networking event or otherwise improving your skills via training.

Tasks that are urgent, but not important, should be delegated for someone else to complete.

For instance, following up with a new client you are signing on.
Tasks that are neither urgent nor important can be deleted, written off as distractions from your actual goals
By following the process outlined above, you can prioritize your tasks and your team's responsibilities without overcomplicating things and making a mess of their days.
Task Management Software Helps, Too
If you use the Eisenhower Matrix to prioritize your tasks and your schedule, you can use task management tools to supplement a successful strategy and ensure you can stick to it. We can equip your business with the right tools for the right job. To learn more give TWINTEL a call at (888) 428-0599 or schedule a meeting today.

Twintel has grown into an expansive, full team of IT services professionals, acting as the outsourced IT department of non-profits, small to mid-size businesses, and enterprise-level corporations in Orange County, across California, and nationally.
Today, it's the strength and deep expertise of the Twintel team that drives positive outcomes for clients. Each of the support staff, technicians, and engineers works diligently each day to make sure that the companies served have the seamless, secure, and stable IT environments needed to allow them to pursue their organizational objectives.