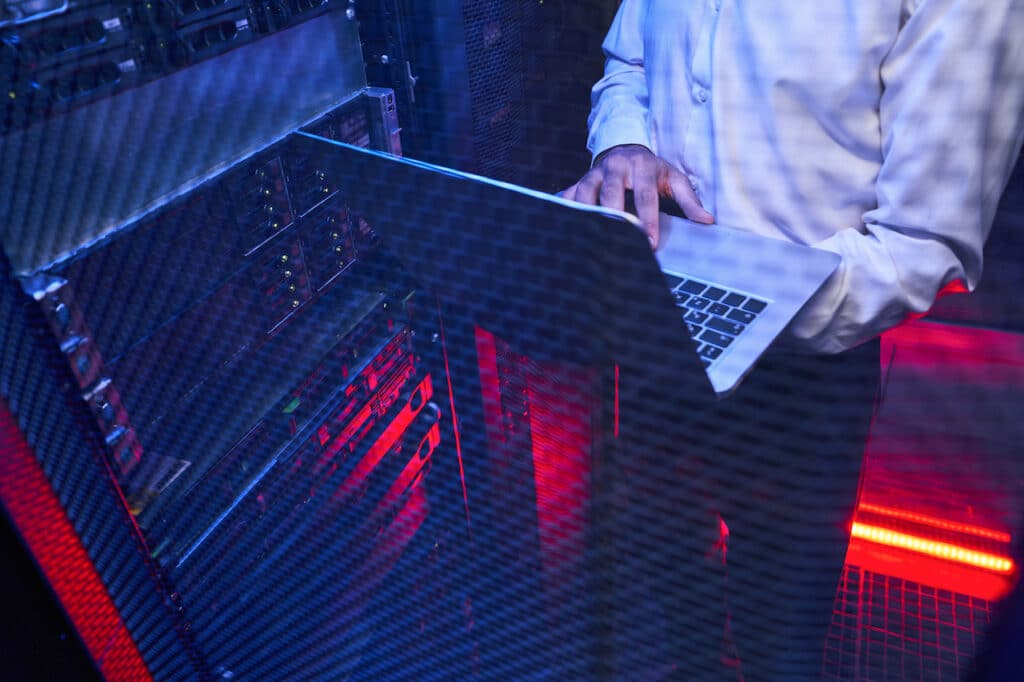 IT is important to any business and there are a variety of ways to procure these services. The decision of whether to insource or outsource IT functions is a strategic one that should be made after careful consideration of the specific needs of the business.
When it comes to IT, there are two primary options for businesses: in-house and outsourced. While both options have their pros and cons, the right choice for your business will depend on a variety of factors. Learn the advantages and disadvantages of in-house and outsourced IT to make a decision that's right for you.
What's the Difference Between In-house IT and Outsourced IT?
The most obvious difference between in-house and outsourced IT is who's doing the work. When you have an in-house IT team, all of your IT needs are handled by employees within your company. With outsourcing IT, on the other hand, you contract with an external company to handle some or all of your IT needs.
What to Consider When Determining Which One Is Best
When considering whether outsourced or in-house IT is the right choice for your business, determine the following:
Budget: How much are you willing to spend on IT?
Size: How big is your company, and how complex are your IT needs?
Needs: What specific IT services does your business need?
In-house IT
In-house IT can be a great option for businesses that have the budget and resources to support a full-time IT staff. However, it can also be challenging to keep up with the ever-changing landscape of technology.
Advantages of In-house IT
Greater Control: You have more control over your data environment
Flexibility: In-house IT may allow for more hands-on customizability
Familiarity: The in-house IT associate only supports your organization and can build great familiarity with staff and technology
Disadvantages of In-house IT
Expensive: Maintaining a full-time IT staff can be costly and time-consuming. And that doesn't include the added costs of maintenance and repairs.
Limited Expertise: A small in-house tech department may not have the same level of expertise as an outside managed IT firm
Minimal Exposure: In-house IT staff may have minimal exposure to ongoing technology trends in the marketplace
Outsourced IT
Outsourcing IT can be a great option for businesses that want to focus on their core competencies and leave the worries of IT to someone else. However, it is also important to partner with a reputable and reliable IT provider.
Advantages of Outsourced IT
Save Money: Using managed IT support helps save you money with their customizable plans
Team of Experts: You'll have access to a team of highly skilled IT professionals around the clock.
Scalability: Outsourcing can be more scalable than in-house IT because you can increase or decrease the level of service as needed
Access to Latest Technologies: Managed IT services always have the latest technologies available
Disadvantages of Outsourced IT
Less Control: An IT provider manages your entire IT infrastructure so that you may have less control
Lack of Flexibility: You may not be able to make last-minute changes to plans once in contract
Security Risks: When you outsource you are giving more people access to your secure data. That is why it is essential to work with a trusted IT professional.
Get Managed IT Services with Twintel
If you're considering outsourcing IT for your business, partner with Twintel to take care of your IT needs. We are a leading provider of managed IT services and can customize an affordable plan to fit your specific needs. Our services include 24/7 cybersecurity monitoring and incident response, near-zero unplanned workflow downtime, and more.
Contact us today to learn more about our services!

Twintel has grown into an expansive, full team of IT services professionals, acting as the outsourced IT department of non-profits, small to mid-size businesses, and enterprise-level corporations in Orange County, across California, and nationally.
Today, it's the strength and deep expertise of the Twintel team that drives positive outcomes for clients. Each of the support staff, technicians, and engineers works diligently each day to make sure that the companies served have the seamless, secure, and stable IT environments needed to allow them to pursue their organizational objectives.