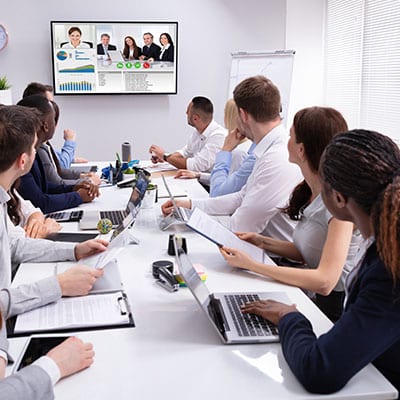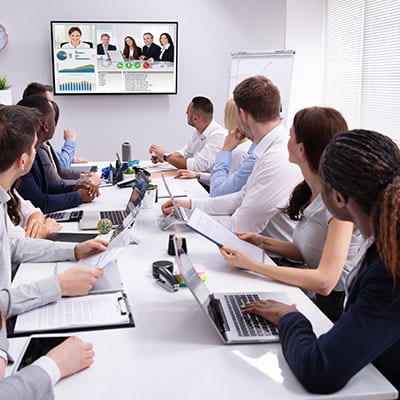 These days you'd be hard-pressed to find a company that is not equipped to handle video conferencing in some way. The pandemic led many organizations to adopt these platforms, and as a result, these platforms have seen a dramatic increase in functionality and capability. We'd like to discuss some of the best features that your organization can take advantage of with video conferencing solutions.
Features to Seek Out in Your Video Conferencing Platform
VoIP and Chat Functions
When it comes to conferencing, the name of the game is communication. Your conferencing platform should have as many methods of keeping up communication as possible. Some conferencing solutions have Voice over IP telephony service bundled with them, and others might include various other mediums.
Many conferencing platforms also have built-in chat functionality, creating additional opportunities for participants to engage with presenters and other attendees. By knowing which features your solution is already capable of, you can make better decisions about how to get the most out of it moving forward.
HD Video Recording
Video conferences are made much more enjoyable when you can see each other clearly and communicate effectively. It stands to reason that your conferencing platform should allow for HD video. Opting for such a solution will simply make the meeting that much more enjoyable for everyone involved, which will lead to better engagement.
Some meetings should also be recorded so that the material can be reviewed at a later date. To make sure this can happen, we recommend that your video conferencing tool accommodate unlimited recordings of meetings that can be stored in the cloud for later use.
Screen Sharing
One of the most effective things you can do during a meeting is share your screen, especially if you are presenting information to your audience. If you select a video conferencing software which allows you to share your screen, you are basically opening the floodgates to more informative and engaging presentation opportunities.
Reach Out to Us for Assistance with Selecting Your Conferencing Platform
If you're unsure of which solution is right for your business, Twintel can help. To learn more, reach out to us at 888-428-0599 or schedule a meeting today.

Twintel has grown into an expansive, full team of IT services professionals, acting as the outsourced IT department of non-profits, small to mid-size businesses, and enterprise-level corporations in Orange County, across California, and nationally.
Today, it's the strength and deep expertise of the Twintel team that drives positive outcomes for clients. Each of the support staff, technicians, and engineers works diligently each day to make sure that the companies served have the seamless, secure, and stable IT environments needed to allow them to pursue their organizational objectives.