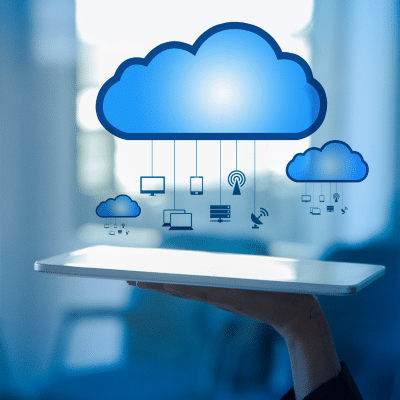 Designing an IT department requires planning and strategies, regardless of the kind of business you have. Businesses have to make many investments in these systems for the data-saving drives and expensive facilities for these systems. That's why we created Twintel's Beginner's Guide to Cloud Computing – a comprehensive resource for leveraging cloud technology for your business.


Cloud computing services have changed the overall potential in the market and the way IT management services work. If you've struggled with something like this, we have listed some basic things about cloud services.
What is Cloud Computing?
Cloud computing primarily refers to third-party hosted software that helps businesses operate their IT systems. However, it's not limited to the software alone. Instead, it may include the infrastructure and the platform delivered via the web. For instance, you can optimize productivity and achieve primary business goals. We can help you with that!
Cloud services are some of the most convenient ways for business owners to:
Use Software
Store Data
Process Data Online
Manage Resources
With such a wide variety of services offered, the full-scale potential of the industry is limitless. These cloud computing services can go anywhere the internet does, and the most important aspect of these cloud solutions is their agility and convenience.
Businesses that aim to save time and money on their operations can rely on cloud computing. The right services for cloud computing can also help with IT infrastructure development.
What are the Different Types of Cloud Computing Services?
Because of the varied applications of cloud computing, they now have different types of businesses owners can choose from. Cloud services are peak convenience and cater to client needs in every way possible.
Since they are Internet-based platforms, there's no need to worry about installing additional downloads. Instead, this approach uses a cloud-based platform, making choosing services easier.
The following are the most popular cloud computing options for business owners.
Software-as-a-service (SaaS): SaaS allows companies to provide software services to their customers when demanded. It includes a variety of different tools and software used in different niches.
Infrastructure-as-a-service (IaaS): IaaS focuses on more facility-related issues. It can help with, Rent storage, Networks, Operating systems, and more. It's an efficient option for businesses that want convenient operations while cutting down on the cost of infrastructure.
Platform-as-a-service (PaaS): allows companies to quickly manage and test their software applications. It doesn't require a database or an infrastructure, making it the best option for long-term operations.
Function-as-a-service (FaaS): allows users to utilize code in different situations and circumstances. The operating systems used within this cloud computing are all controlled by a third party. Therefore, FaaS falls under the category of services operating without a server.
Each of these cloud options has its benefits and drawbacks that business owners should keep in mind. They can deploy one or multiple cloud computing solutions to their business, improving efficiency. The kind of third-party service chosen for this operation also makes a massive difference in the experience.
Quote from Our CEO
"As the Founder and CIO of Twintel, I believe every business should have access to the power and benefits of cloud computing. Our cloud services offer a comprehensive solution enabling customers to move all their software and applications to a fast, secure, and easily managed cloud environment. No more dusty server rooms, no more high hardware and electricity costs."
– William Scogin Founder and CIO
Whatever your business needs, we have the expertise and experience to provide you with the right cloud solution. Contact us today to discuss your requirements and learn how we can help you achieve your business goals.
Bottom Line
Cloud computing is one of the most popular business modes business owners utilize worldwide, and it offers various ideas that businesses can deploy.
Adding cloud services to business ensures that business owners don't have to worry about costs, efficiency, and functionality of services. We recommend learning more about the cloud before choosing a solution.
At Twintel, we are committed to helping our clients leverage the power of the cloud for their business success. Get in touch with us today or call (888) 428-0599 to learn more about our cloud computing services and how we can help you achieve your business goals.

Mark Johnson is a passionate technology professional with over 11 years of experience in the Managed Services IT space and a wide variety of industry-leading certifications. Mark's extensive Managed IT experience and aptitude for quickly learning and adapting to new technologies has equipped him to offer valuable insight across a broad spectrum of business technology solutions.