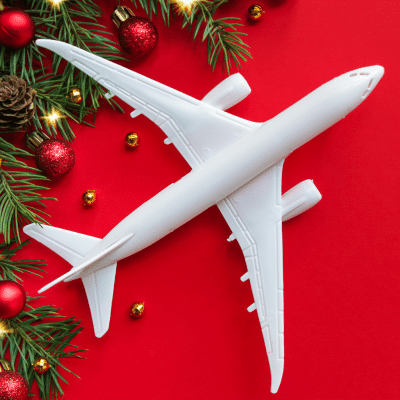 Many of us look forward to holiday vacations as an escape from the chilly weather, seeking that much-needed dose of vitamin D during the winter months. As the holiday season ushers in a surge in travel, we understand the importance of making the experience as smooth as possible. That's why we've gathered five invaluable holiday travel tips and tricks to help you make the most of your upcoming holiday season getaway!

Top 5 Holiday Travel Tips
1. Thorough Research Matters
Holiday season airline tickets can really break the bank, so it's crucial to explore all your options before making any reservations. Consider not only different times and airlines but also different airports. Smaller airports often offer lower flight prices.
While they are less central than larger ones, the money you save can be well worth it. They're also less crowded since only some think of them when traveling to new destinations.
2. Plan for Smooth Transportation
Few things are more frustrating than traveling unprepared, and transportation is a key aspect of any journey. Take your time sorting out your transportation logistics during the busy holiday season. Pre-booking your airport transportation is a must. This way, you'll know who to look for or who will be there to pick you up at your dream holiday destination.
3. Gifts Made Easy
Dealing with gifts while traveling during the holidays can be stressful. But there are smart ways to get your gifts from point A to point B without cramming your luggage. Gift cards are a fantastic solution that will only take up a little space and allow your loved ones to choose what they want.
If you prefer a more personal touch, consider shipping your gifts. You can either send them to your destination in advance, all wrapped and ready, or order them online and have them delivered directly to your holiday spot.
4. Steer Clear of Informal Vendors
When you're out and about, avoid buying from street or beach vendors to ensure your money goes toward reliable and fair products. This tip goes hand in hand with pre-booking airport transfers and excursions.
By doing so, you can avoid local vendors peddling subpar items. It's the reason we recommend trustworthy, safe, and convenient services, ensuring you always receive top-notch service.
5. Opt for Direct Flights
If you're someone who typically books connecting flights to save money, the holiday season might be a good time to indulge a little and opt for a direct flight. With the increased number of flights and travelers during the holidays, the chances of cancellations and delays rise.
Booking a direct flight can put your mind at ease – once you step on that plane, your holiday begins, with no more fretting about making your next flight.
Summing Up
So, as you gear up for your holiday season adventure, remember these tips to make your journey stress-free and enjoyable. By doing so, you'll not only safeguard your travel experience but also ensure that the holiday season is truly a time of relaxation, joy, and cherished memories. Safe travels and happy holidays!
Learn more about TWINTEL or call us at (888) 428-0599 or schedule a meeting today.
Click Here To Claim Your FREE Assessment and Action Plan

Mark Johnson is a passionate technology professional with over 11 years of experience in the Managed Services IT space and a wide variety of industry-leading certifications. Mark's extensive Managed IT experience and aptitude for quickly learning and adapting to new technologies has equipped him to offer valuable insight across a broad spectrum of business technology solutions.